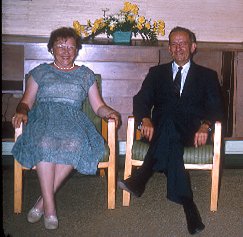 Christina and Bob Jacks. At Beloit College in 1965.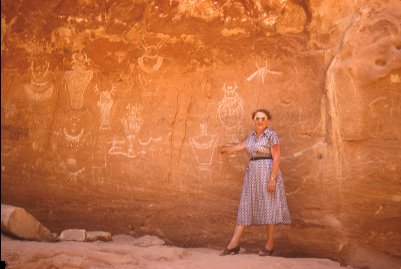 Aunt Christina in front of petroglyphs in Capitol Reef, Utah. Aunt Christina and Uncle Bob both had teaching jobs, so they traveled extensively during the summer months from when they got married in 1936 through the early 1980s. Aunt Christina was a history teacher, so they frequently traveled to historic sites in the western U.S.A.
The next seven photos are all blue- or red-mounted Kodachrome slides. These and all Kodak slides from this era are all undated, and are from the early to mid-1950s. The Kodachrome of the time took wonderful outdoor pictures, and have never faded.
Uncle Bob at Bryce Canyon, Utah.
Leadville, CO.
A close-up of the kids in the above photo. Those aren't costumes.
Logan, Utah.
Split Rock, Wyoming.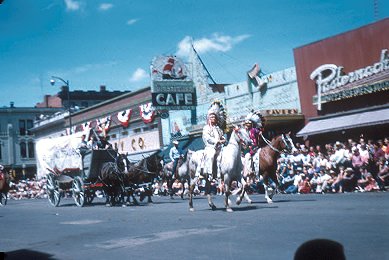 The Frontier Days Parade, Cheyenne, Wyoming.
The Silverton Train in Durango, CO. The Silverton branch of the Denver and Rio Grande Railroad was becoming a popular tourist destination at the time. The train (and Silverton) have changed little since.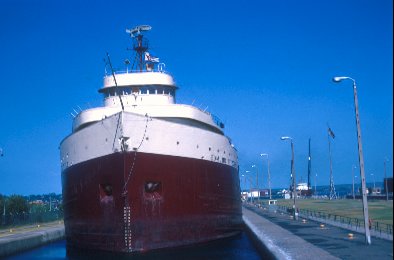 The Soo Locks, Sault Ste. Marie, Ontario, in August 1966. Aunt Christina gets a picture of the ill-fated Edmund Fitzgerald, which later sunk in a storm in Lake Superior and became the topic of a famous Gordon Lightfoot song.