Cumbres & Toltec Scenic Railroad
Pictures from the opening weekend for the 2000 season, 05/27-28/2000
Our power for the trip - the K-36 class 487 - next to the Antonito shop before the first trip.
The first train ready to depart Antonito.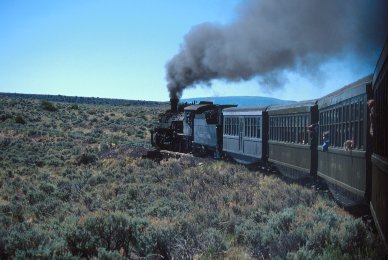 Outside of Antonito in the San Juan valley.
Taking on water.
The power on the train from Chama on opening day - the 489 - stopped at Osier.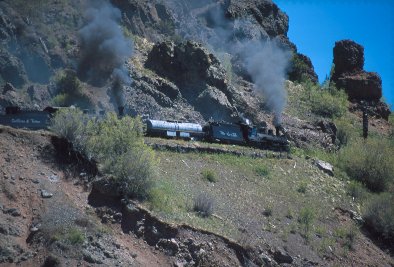 On the second day of operations, the Chama train goes over Windy Point. Note the rotary plow water car between the engines. It sprayed water trackside to prevent fires.
The Chama train at the top of Cumbres pass on the second day of operations.
The 487 at Cumbres Pass. Note that it has 488's tender.
All pictures Copyright 2000 by Chris Jacks. Reproduction with my permission only. Thank you.