Pictures of the CP 2024
by Chris Jacks
The Heritage Park in Calgary is a large collection of restored historic buildings, similar to Greenfield Village in Dearborn, MI. It has a trolley line from the park entrance to the parking lot and has a steam train running on a loop inside the park. The power is CP 2024, which is actually a U.S. Army engine built in 1944. The park also has a 1942-built U.S. Army engine painted up as CP 2023. In the train is an ex-CN open observation car, which is a veteran of many CN steam excursions in the 1960s.
The 2024 rounds a curve on the steam train loop.
The 2024 passing the water tank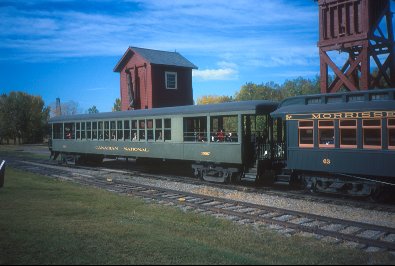 This ex-CN car is a veteran of many CN steam excursions.
The trolley car on the line to the parking lot entrance.

All pictures copyright 2001 by Chris Jacks. Reproduction with my permission only. Thank you.

Go back to "The Three Steam Engine Weekend" page.