Pictures of the CN 6060
by Chris Jacks
The Canadian National 6060, now owned by the Rocky Mountain Rail Society, pulls the Alberta Prairie Railway's excursion train several times a year. The Alberta Prairie's equipment is nicely restored in a CN-like scheme, and the 6060 does not require an aux. water tank on this trip, which gives the train a very historically accurate appearance. I captured the shots below between Stettler, AB and Big Valley, AB on September 22, 2001.
The 6060 pulled the train tender-forward on the trip south to Big Valley.
The 6060 on the head end of the train at the Big Valley station.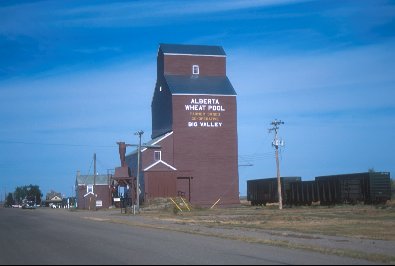 The now-closed elevator in Big Valley, which was open for tours.
The 6060 on the head end of the train going north after running around the train in Big Valley.
At one of the many grade crossings between Big Valley and Stettler. This trip was easy to chase as a road paralled the tracks all the way from Big Valley to Stettler.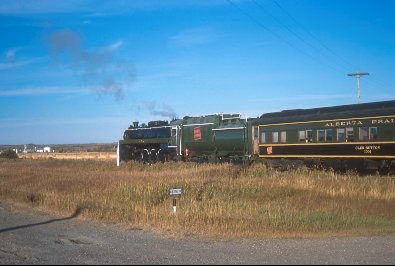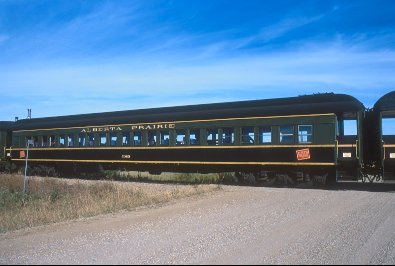 One of the fine cars owned by the Alberta Prairie Railway.
Entering Stettler at the end of the day.

All pictures copyright 2001 by Chris Jacks. Reproduction with my permission only. Thank you.